Site editor's note:  The information below has been supplied by WAVESnz, a New Zealand organisation that supports informed consent and freedom of choice  regarding vaccination.
The Truth about Vaccines
Ingredients, toxicity & side effects of the New Zealand Vaccine Schedule
What you need to know about vaccines and childhood illnesses  that your medical practitioner won't tell you.
Presented by Tracy Livingston
Tuesday 8th March,
7pm – 9.30pm
Wesley Church, Lounge Room
100 13th Ave, Tauranga
RSVP: info [at symbol] wavesnz.org.nz
Koha for WAVESnz appreciated
Also coming up in Auckland is a presentation by Dr Humphries, co-author of Dissolving Illusions who will be speaking with Hilary Butler, author of Just a Little Prick on April 3. For more details, please click on the poster, below.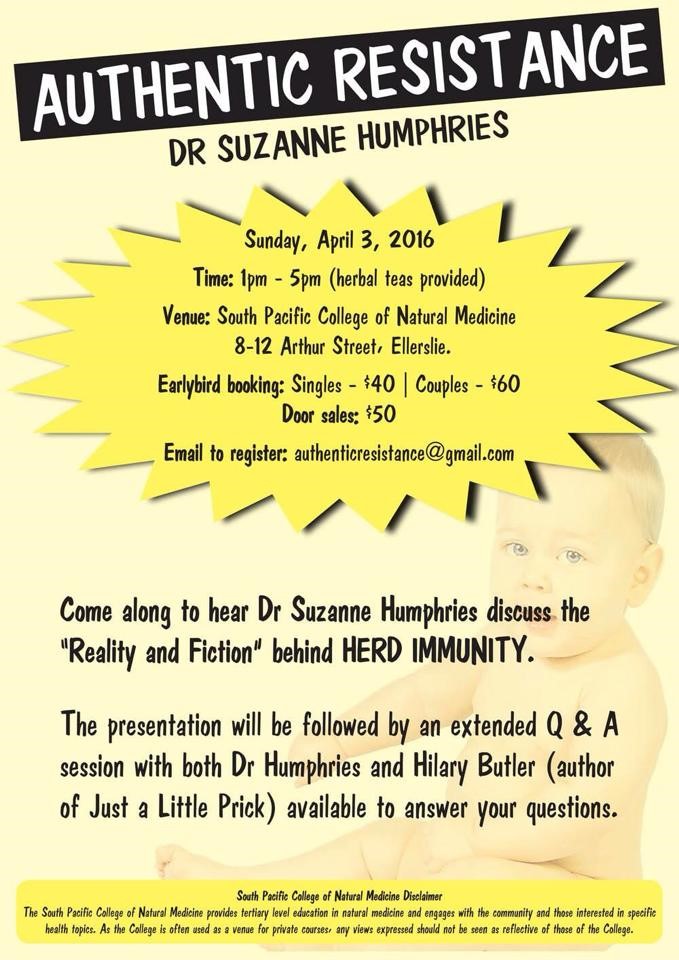 Ed note:  The NZ Journal of Natural Medicine features article about various aspects of children's health, including vaccination, as well as nutrition, protection from electromagnetic radiation (EMR) etc  If you are interested in children's health you may enjoy some of the articles at our online archive at this link: https://naturalmedicine.net.nz/category/childrens-health-and-development/
If you are interested in vaccination, you may find the articles at this archive to be of interest:. https://naturalmedicine.net.nz/category/vaccination/
Our online shop, where you can buy printed and PDF copies of our magazine (and also download free samples of  articles from different issues) is here.

Image credit:  The photo of the syringe and gloved hand used as the featured image for this post is used with the kind permission of mistermong from www.freedigitalphotos.net